FSC Seminars
Purpose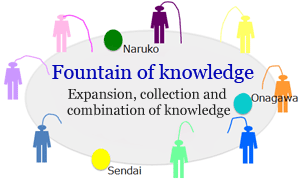 The FSC Seminar provides a platform for the proposal of new concepts based on exchange among people from various fields.
Lecture details
Field Science Center Seminar Presentation Session
2013 graduates and students finishing courses will present their research findings.
9:30 – 12:00 on March 25, 2014
Main Conference Room, Field Science Center
Contact
Chika Tada
Associate Professor, Graduate School of Agricultural Science (Sustainable Environmental Biology)
Tel.: 0229-84-7395
Fax: 0229-84-7391
Click here for information on past lectures (Japanese only).
For details, see theFountain of Knowledge – Field Science Seminar blog (Japanese only).